As part of a recent survey of their SME customer base, Right Fuel Card analysed how positive businesses feel about the next 12 months and highlight any specific challenges different industries are facing.
Although businesses across a variety of sectors are more optimistic about the future than they were 12 months ago, those who work in agriculture and farming still have long-term concerns. There's also little desire to move to alternative fuels despite the recent advancements in greener technology.
Will rising costs lead to an agricultural revolution?
According to this survey, just over 50% of businesses in the agricultural and farming industry feel positive about what the future holds. This is an improvement from last year when only 25% of respondents felt optimistic, however, it's still far lower than most other industries.
The key challenges that we identified are increasing costs, customer retention and unpredictable weather conditions. These issues are not necessarily new, but they are now causing farmers to look for alternatives to conventional farming methods.
Increasing costs
Most businesses have been impacted by the cost-of-living crisis, but it's arguably hit the farming and agricultural industry the hardest. The price of fertiliser, electricity and animal feed have all increased significantly since the Covid-19 pandemic and Russia's invasion of Ukraine. This has affected the profitability of many farmers and consequently caused food prices for consumers to rise.
Although food inflation is now beginning to slow down, there is still uncertainty about the future as other costs remain high. This has a knock-on effect on customer retention as consumers are tightening their belts and changing the way they shop. This is a challenge for many respondents in this survey who are trying to find and maintain customers whilst remaining profitable. As a result, some farmers are going out of business and their land is increasingly being sold for housing developments.
The TV series 'Clarkson's Farm' provides a fantastic insight into the agricultural industry and highlights how little profits farmers are currently yielding. This has led to calls on the Government to take action and help struggling farmers through these difficult times.
Mental health of farmers
With prices at an all-time high, we expected the mental health and well-being of drivers in this industry to be compromised. However, this survey revealed that 59% of respondents had not noticed an impact and only 15% had requested pay rises to match the cost of living.

Instead of rising costs, it's often long working hours, isolation and social anxiety which are impacting the mental health of young farmers the most.
A growing need to decarbonise farming in the UK
The agricultural sector is one of the main contributors to global warming, so it's important that businesses within it start to decarbonise soon. This will not only involve regenerative farming practices but also farmers switching to greener vehicles and machinery. However, an overwhelming 94% of businesses in this survey stated that they have no plans to move towards alternative fuels in the next 12 months.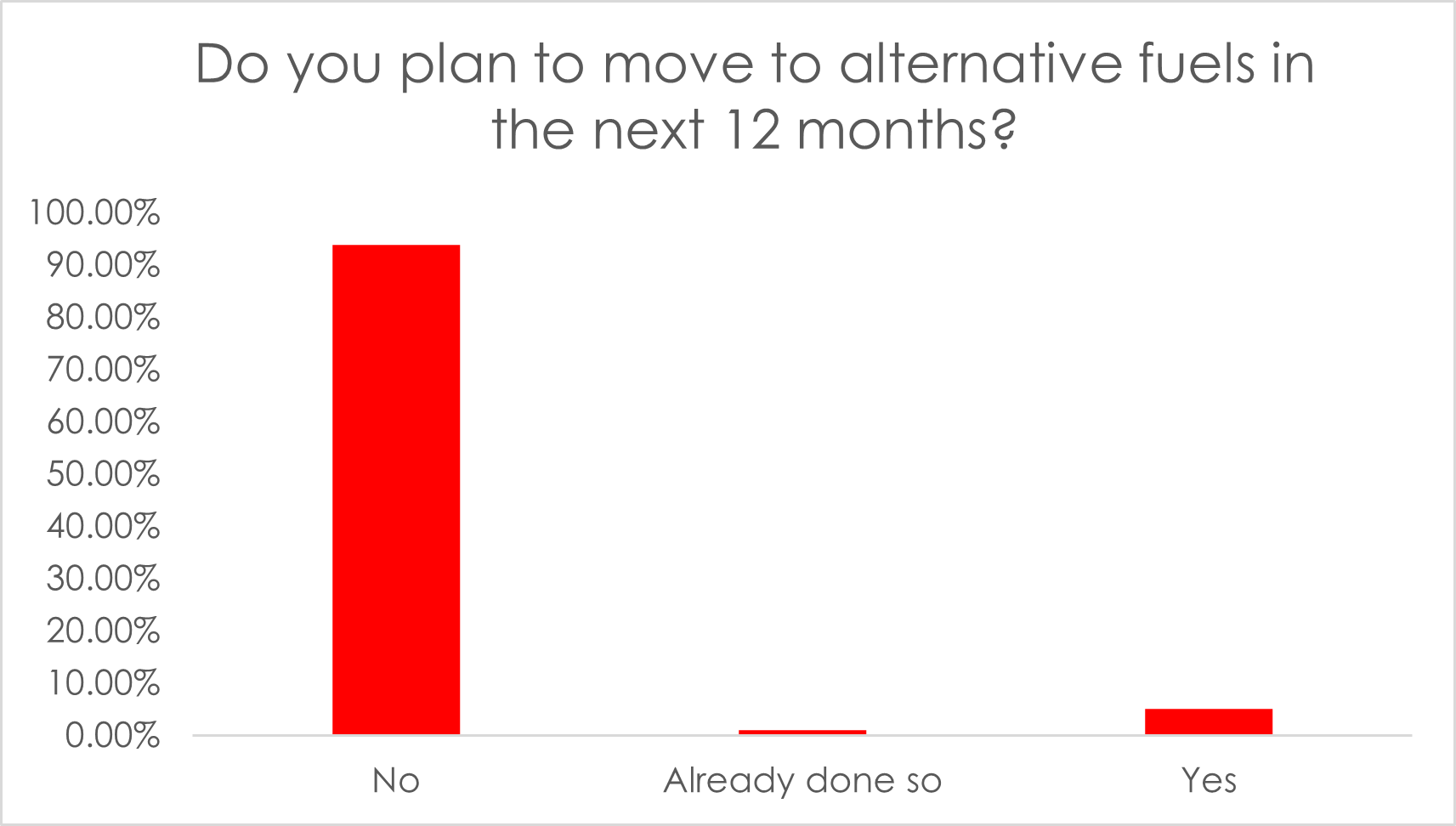 Limited vehicle range of alternative fuels was the main barrier for those in the agricultural and farming industry alongside cost and access to infrastructure. Farmers require practical vehicles which can work across fields and be strong enough to pull large loads, so there is hesitation to move to alternative fuels as currently available vehicles generally do not have this capability. As these businesses usually operate in rural locations, there's also a fear that drivers won't be able to recharge when necessary.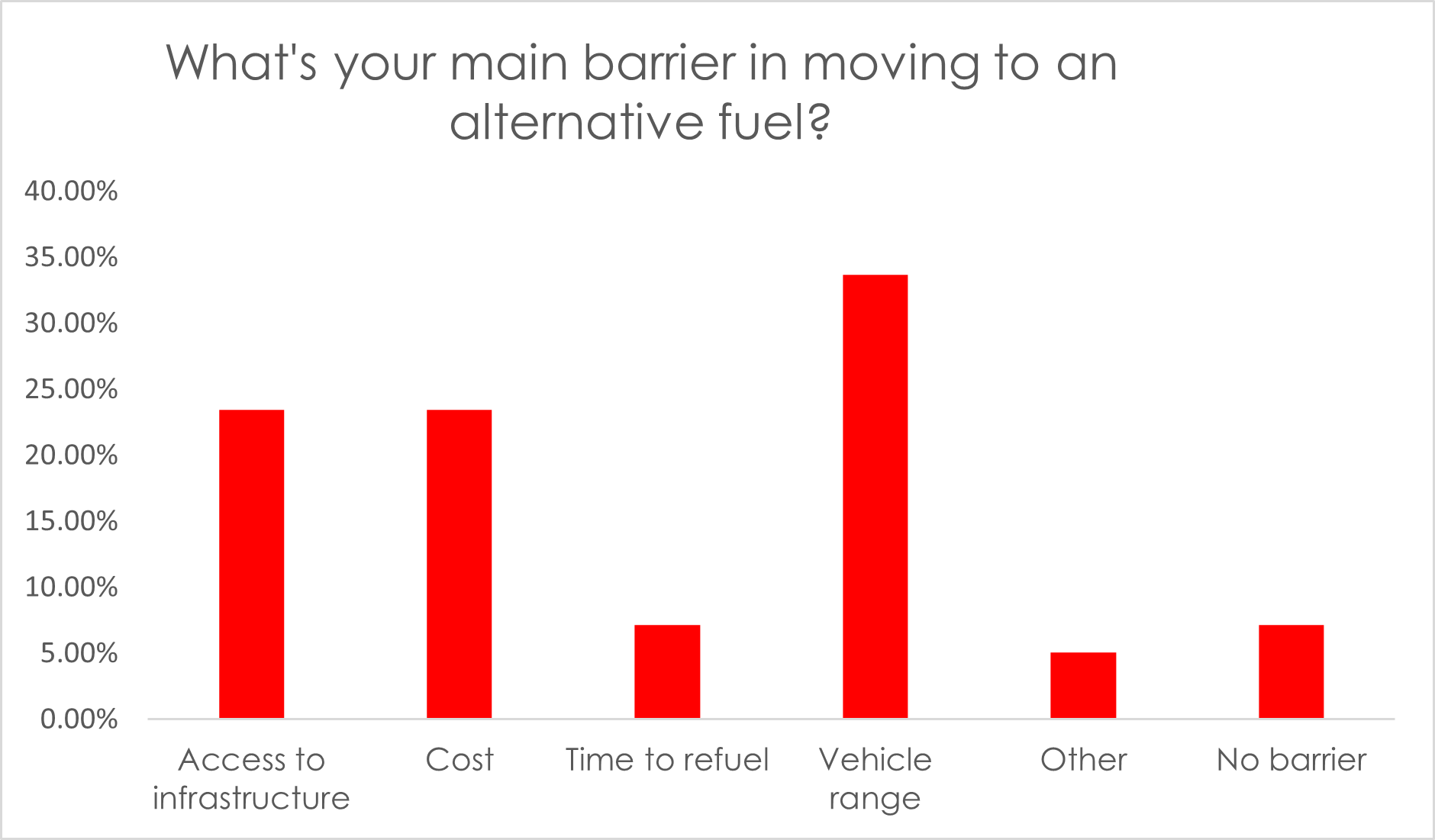 Although our customer base is not currently considering alternative fuels, other businesses in this industry are starting to look at how they can be used to reduce their carbon footprint. Agricultural manufacturers, such as JCB and John Deere, are starting to develop alternative fuel sources for farm machinery. It's expected that HVO and hydrogen will be the main alternative fuel source for farmers in the future as this technology offers far longer driving ranges and has better towing capacities than EVs.
The development of electric and hydrogen vehicles for agricultural use is still in the infancy stage but the more investment they receive, the more accessible they'll become for businesses. Biomethane will also be commercially available in the UK later this year and this can be used by farmers to reduce greenhouse gases and running costs. Admittedly, there are still challenges with using alternative fuels for agricultural machinery, but the first signs of progress are being seen, prompting optimism for what the future holds.
We offer a wide range of fuel cards to help businesses in the agricultural and farming industry manage the fuel expenditure of their current vehicles. They are a convenient payment option that's designed to save you time and money. Discover which fuel card we'd recommend for your business or speak to our team at 0113 202 5110 for more information about our products.
Note: Survey conducted in May 2023 to business fuel card users, receiving 854 responses.