As part of a recent survey, businesses within Right Fuel Card's SME customer base were questioned about the current challenges they're facing and their plans for the next 12 months.
Although most industries are feeling more optimistic than they were last year, businesses in the haulage and transport sector are still lacking confidence. An overwhelming 97% of respondents in this industry also had no plans to move to alternative fuels, despite the growing push from local governments for drivers to make the switch.
High costs for businesses across the haulage and transport industry
According to our survey, just over half of haulage and transport firms feel positive or very positive about the next 12 months. Although this is an improvement from last year where less than 1 in 5 businesses in this industry had a feeling of optimism, challenges remain. Drivers are struggling to find adequate service stations and the cost of living is still stubbornly high.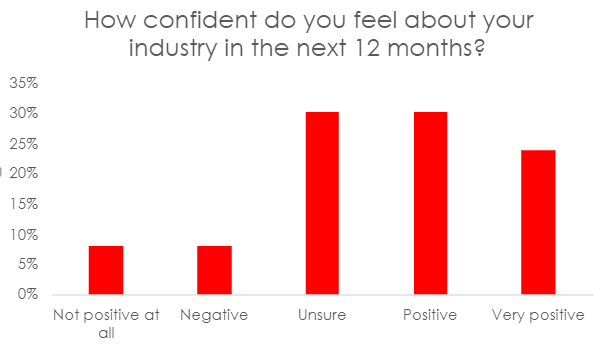 Although fuel prices have steadily been reducing which has benefitted businesses in this industry, there are still a range of increasing costs to contend with. The increase in the corporation tax rate, fluctuating inflation costs and a decline in mental health have all negatively impacted the haulage and transport industry. Many businesses had only just started to recover from the national HGV driver shortage, so with the increasing financial strain it's unsurprising that the future still looks somewhat bleak.
This has added pressure on haulage and transport firms to offer higher wages to their drivers, a fact which many businesses we surveyed agreed with. Over 50% of respondents highlighted that their drivers have recently been struggling with personal finances or have asked for an increase in pay. With interest rates expected to rise once again and food price inflation at a record high, it's unlikely that the financial pressures on both businesses and their drivers will be eased anytime soon.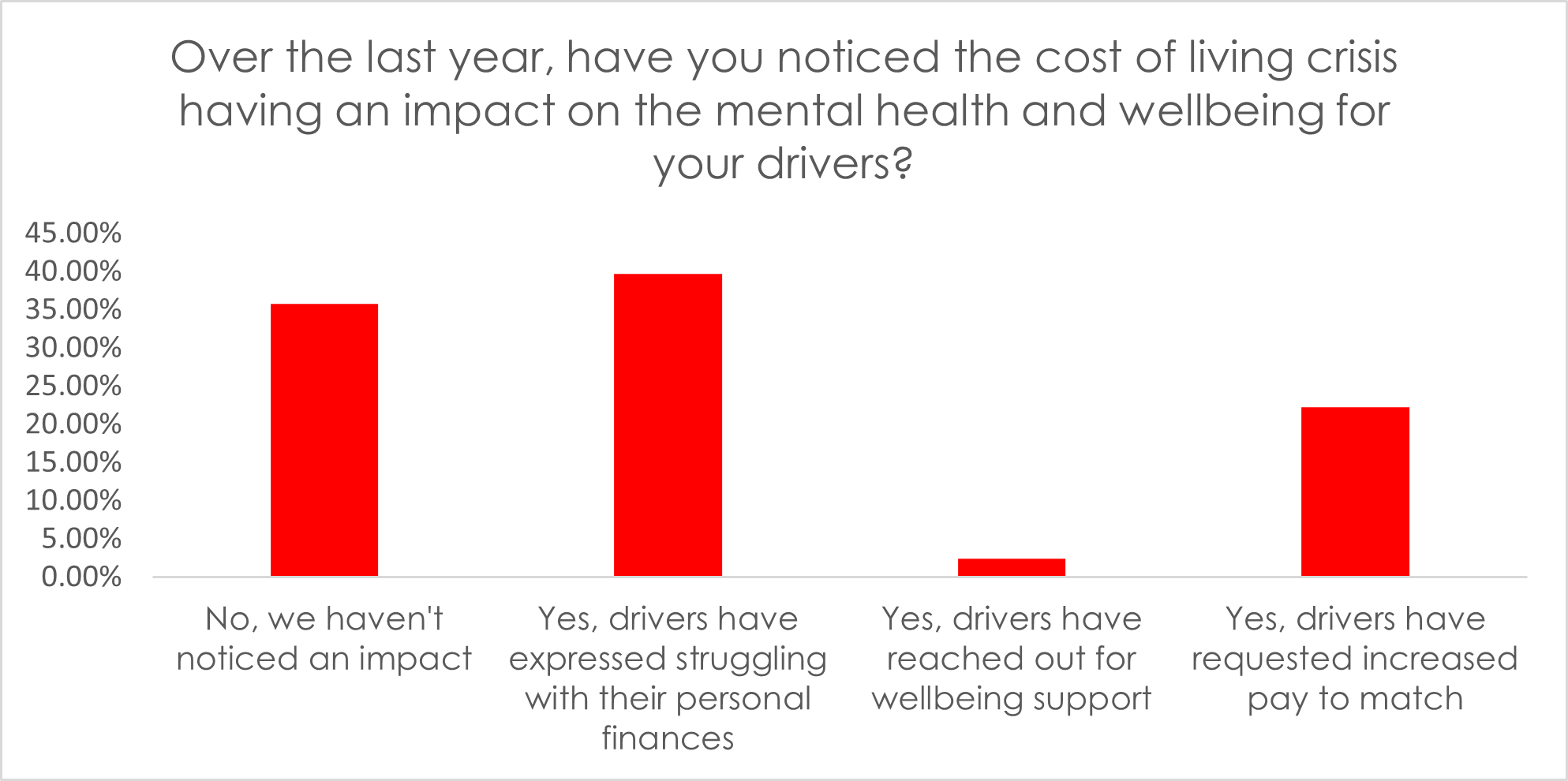 Inadequate driver facilities at UK service stations
70% of haulage and transport firms we surveyed expressed concern about the facilities for drivers and their vehicles at service stations. The key issues raised were the accessibility and quality of service stations, plus the lack of security which often results in fuel and load thefts.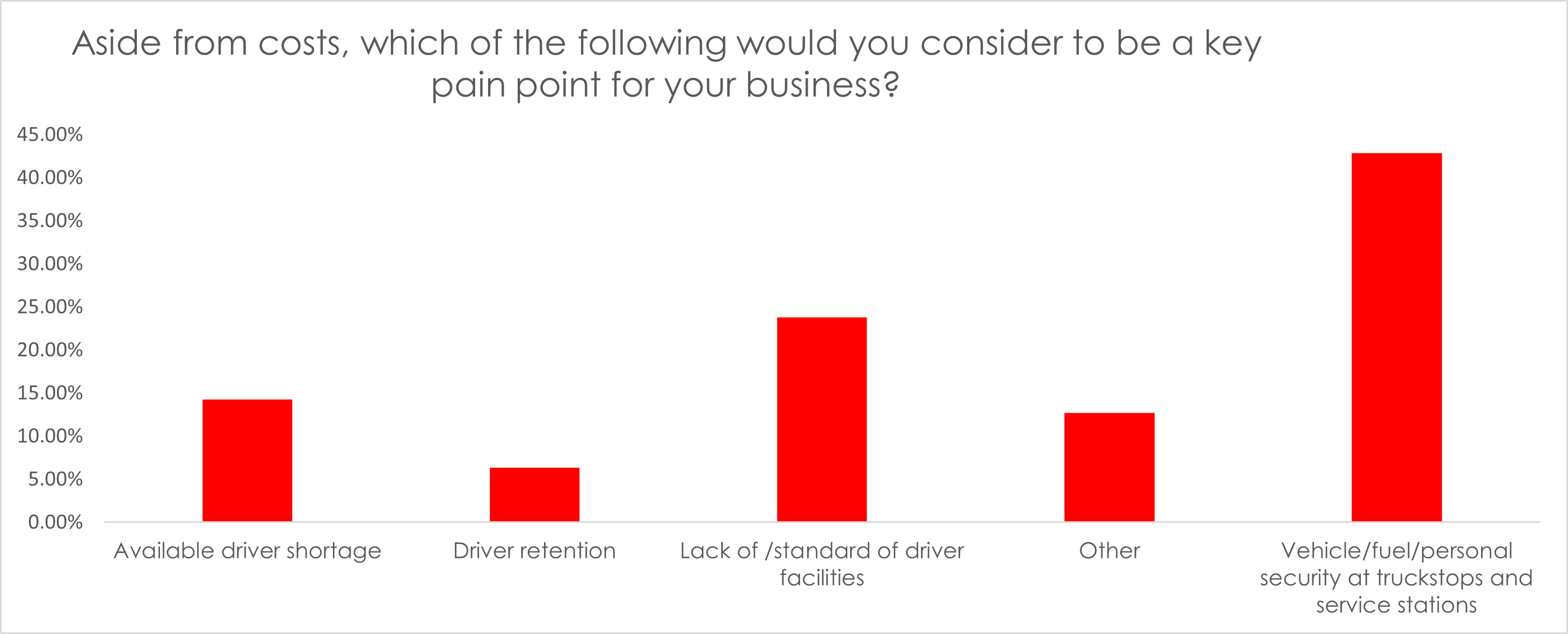 It's been reported that there are at least 1400 too few overnight parking spaces for commercial vehicles, making it difficult for HGV drivers to find a suitable place to stop and rest. Although the Government announced that £32.5 million in match-funding would be used to improve and expand HGV parking areas and rest stops in the UK, more progress needs to be made to ensure that HGV drivers can access better roadside facilities.
It's hoped that the development of service station facilities will lead to an improvement in driver welfare, security, and road safety for those in the haulage and transport sector, resulting in businesses feeling more optimistic about the future.
Hauliers have no interest in adopting alternative fuels
The decarbonisation of vehicles has been a contested topic over the last few years, particularly within the haulage and transport sector. The ban on new petrol and diesel HGVs in 2040 has been met with backlash by many businesses due to the current barriers which are preventing the switch to alternative fuels. It's therefore unsurprising that only 3% of customers surveyed in this industry have plans to move to EV in the next 12 months.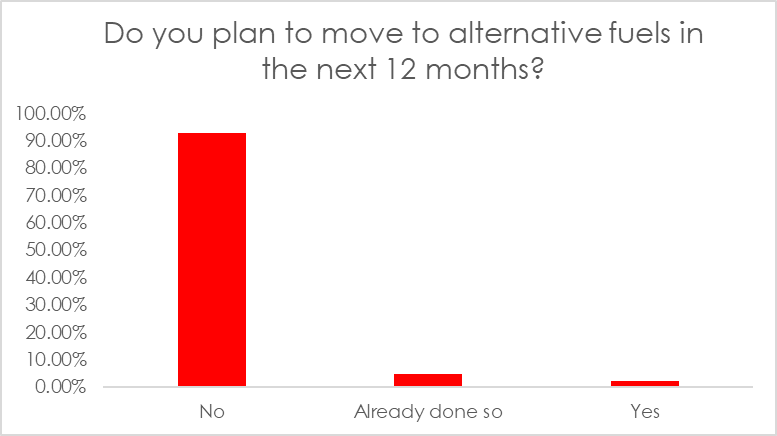 According to this survey, the main barriers for businesses are the high cost of alternative fuel vehicles and the limited driving range.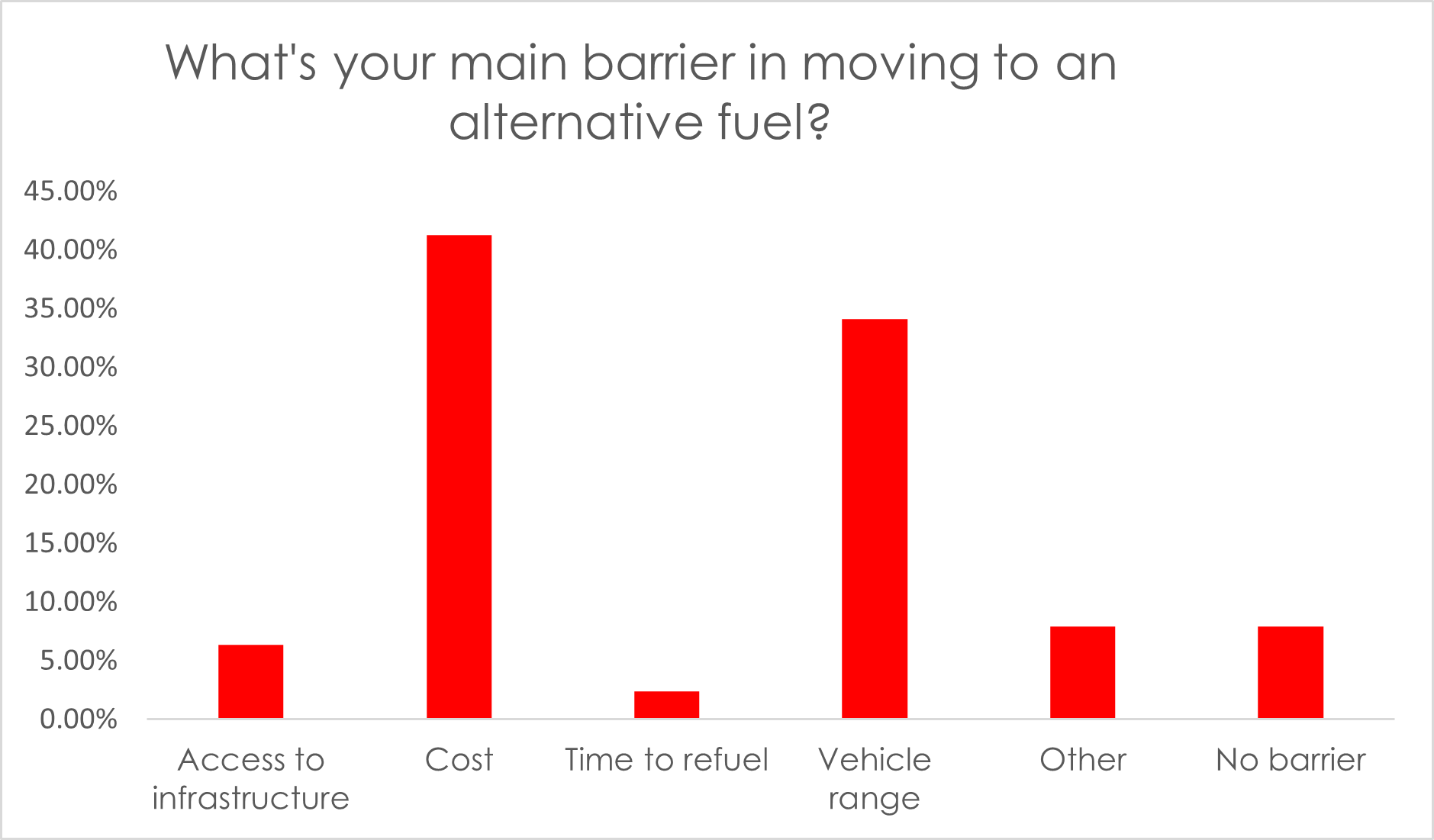 However, there are also other contributing factors which are deterring businesses from making the switch.
High purchase cost – As there are a limited number of models on the market for electric HGVS in particular, the initial investment needed is substantial with prices starting from around £140,000. For businesses that are already struggling with increased costs, it's not feasible that they'll have the budget to invest in new, green vehicles within the next 12 months.
Limited driving range – The average driving range for electric HGVs is very limited, around 200 miles, making it an impractical choice for drivers in the haulage and transport industry who regularly travel long distances. However, the driving range of hydrogen HGVs is expected to be longer, up to 370 miles, but it may be a number of years before these are widely implemented.
Inadequate charging infrastructure – There are currently just six hydrogen refuelling stations in the UK, making it difficult for drivers to refuel when necessary. In comparison, there are over 37,000 public EV chargers, however, these are primarily designed for cars and small vans, so are not accessible to many HGV drivers.
Slow charging times – As drivers in the haulage and transport industry are constantly on the move, it would be impractical for them to regularly stop and recharge as it takes significantly longer to recharge an EV than it does to refuel a diesel vehicle. Deliveries are often time-sensitive, so any unnecessary downtime could also affect profits.
Impractical for business needs – Many vehicles that use alternative fuels have not been designed for business use, so are unable to tow or transport heavy loads. This limits their ability to meet commercial needs, deterring the haulage and transport sector from giving up their traditional ICE vehicles.
Lack of availability - For both hydrogen and electric vehicles, the number of HGV models is limited. Although manufacturers are starting to invest in these larger, green vehicles, it's unlikely that smaller businesses will be able to access them anytime soon, especially as the waiting list for a new EV can already be up to 12 months.
As HGVs are responsible for over a quarter of road transport emissions, it's essential that more progress is made to decarbonise this industry by making alternative fuels more accessible. More companies, such as H2Accelerate, are starting to invest in greener technology which will break down these barriers and introduce practical alternatives to diesel vehicles. Once the infrastructure and technology have been developed further, businesses in this industry will be able to make the switch but it's likely that this still won't be for several years.
At Right Fuel Card, we offer a range of fuel cards which can be utilised by businesses in the haulage and transport industry to efficiently manage their fuel expenditure. Explore our range of fuel cards or contact our team at 0113 202 5110 to discuss your options further.
We're also looking to introduce an EV fuel card so that we can continue to offer flexibility to our customers when they do decide to switch to greener fuels. You can register your interest in this product here.
Note: Survey conducted in May 2023 to business fuel card users, receiving 854 responses.