Whilst the day-to-day market has fluctuated significantly across February, the overall impact has been negligible. Oil prices have remained within a $7 range and remain well below the $90 level – at least for the time being. More on that later.
Similarly, exchange rates have been largely uneventful over the past month. The pound fluctuated between 1.19 and 1.21 against the dollar in Feb and appears to be continuing that trend for March.
UK Inflation figures for February won't be released until 22nd March, but if the trend continues from January, we'd expect to see another small fall, potentially bringing overall inflation below 10%. Transport-specific inflation has fallen month-on-month for seven consecutive months. Average Diesel pump prices did fall 1.48p compared to January but this is a significantly smaller decrease than in previous months.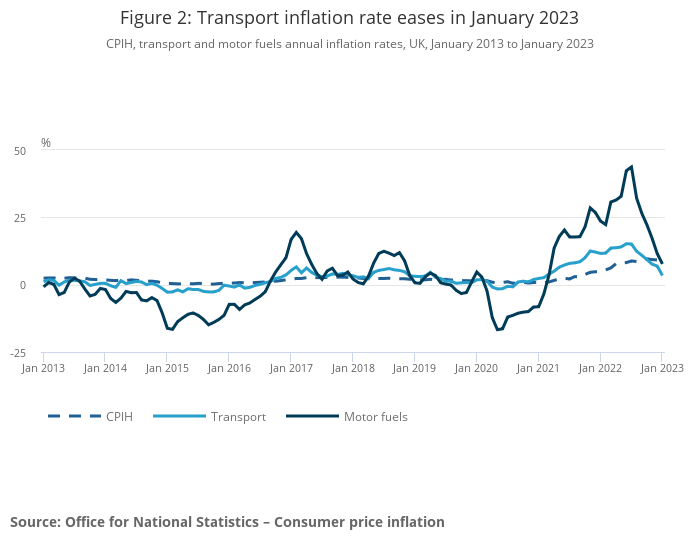 Global headlines impacting oil markets
As always, China, Russia and the Middle East dominate the headlines which impacts oil markets. The key stories this month are:
Update predictions for 2023 oil prices
At the start of the year Right Fuel Card CEO, Dominico Mariconda, predicted a price of around $81 per barrel. Whilst his prediction was a little optimistic (monthly average has been nearer $84-$85), it appears most forecasters are now expecting an increase in the second half of the year with predictions averaging at $90 per barrel. Whilst disappointing, as it will inevitably lead to increases at the pump, the predicted prices are still nowhere near the record levels seen in 2022 following the initial invasion in Ukraine.
UK diesel pump prices
Following a sharp fall in wholesale prices at the back end of 2022, there were protests from a number of sources that the prices at the pump were not falling in line with the trend, leaving consumers out of pocket, but has this really been the case?
In short, yes. Fuel prices at the pump tend to move much more slowly than wholesale prices as they are often dependent on a number of additional factors outside of the core wholesale price market such as contracts a specific forecourt may have or the rate at which they get through a tanker of fuel. However, whilst the retail price has a smoother fluctuation, it has in the past consistently followed the wholesale trend.
Since mid-November 22, the variance between wholesale and retail has doubled. With no changes in fuel duty or VAT, the only conclusion can be that retailers are holding that saving back. Whether that's to subsidise a lower petrol cost for consumers (business users predominantly use diesel) or to help balance the books from inflation-impacted expenses elsewhere, is unclear. What is clear is that consumers paying pump price for diesel are paying more than they need to.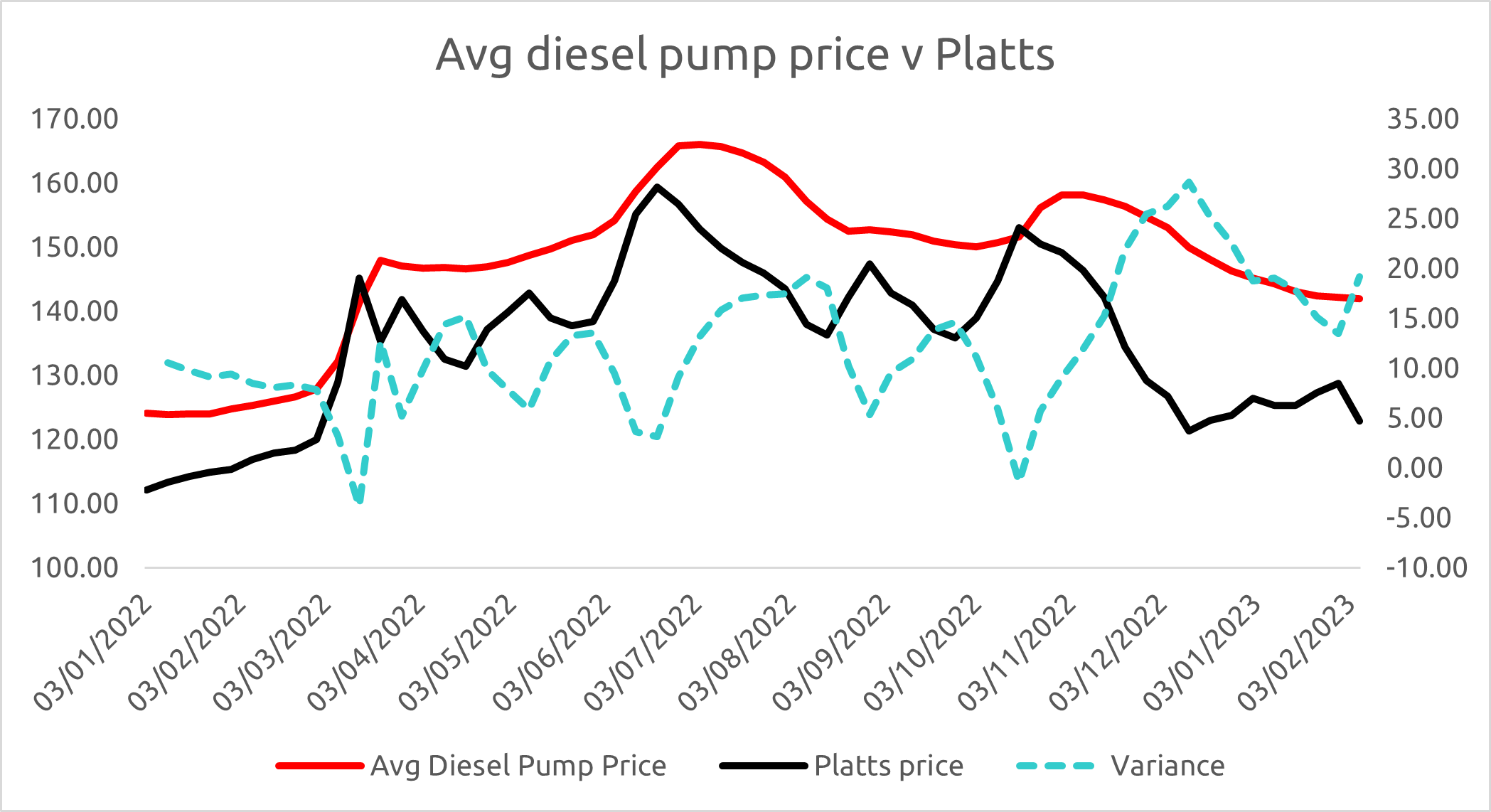 March could see those pump prices push even higher as the Chancellor will announce whether fuel duty will remain at the existing reduced level of 52.95p per litre or return to 57.95p. Whilst increasing it to the former rate could pay for a much-needed public sector pay rise, it will also have a devastating impact on the transport industry, which is already struggling from a perfect storm of issues from the last few years.

Either way, most businesses, from sole traders with one vehicle to hauliers with high usage, can benefit from a fixed-price fuel card which will reduce fuel costs among other benefits. to discuss your fuel card options, contact our team at 0113 202 5110, or alternatively, you can explore our range of fuel cards here.