Right Fuel Card's SME customer base was recently surveyed to discover how optimistic businesses are feeling about the future and find out what challenges they're facing.
Most industries are feeling more confident than they were in 2022, particularly taxi and limo firms. Despite this optimism, 92% of respondents in this industry have no plans to move to alternative fuels as there are still too many barriers.
Financial pressures and a competitive market for taxi and limo firms
This survey revealed that 65% of taxi and limo firms feel positive or very positive about the future. Last year, less than half of respondents stated they felt positive, so the general outlook has improved but there are still issues that need to be addressed. Drivers have concerns about the security of service stations, the market is becoming increasingly competitive, and some businesses are experiencing a driver shortage.
Most taxi and limo firms have been significantly impacted by the current cost of living crisis with 50% of respondents stating that drivers have been struggling with their personal finances. Rising interest rates and inflation, plus fluctuating fuel prices have led to financial uncertainty for this industry.

Increasing financial pressures are also deterring new drivers from entering the industry as licensing fees are expensive, costing up to £1000 in London, which many are unable to afford. In addition, the process can take up to 4 months, delaying drivers from earning money and causing a driver shortage for businesses. 26% of taxi and limo firms mentioned that driver shortages are a major pain point for their business. This could be a long-term challenge for this industry as most taxi and limo firms have an ageing workforce with only 17% of drivers aged under 40 and 16% over 60.
The growth of ride-hailing platforms, such as Uber, also presents a major challenge as they operate under different regulations and offer lower fares, making it harder for traditional taxi companies to compete. Taxi and limo firms will need to differentiate their brand and keep up with technological advancements if they wish to have longevity against these ride-hailing platforms.
Another critical pain point that was raised by 34% of respondents in this survey, is the lack of security at service stations.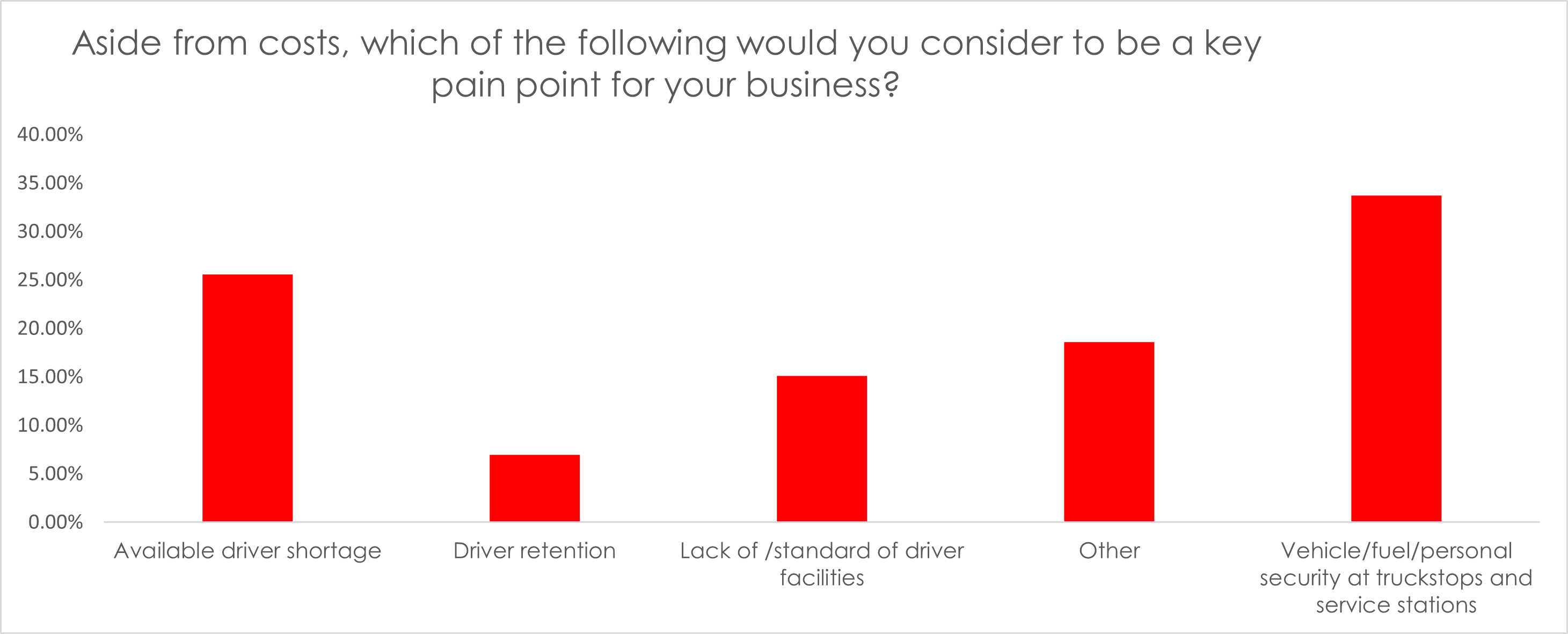 Taxis and limos are often perceived to have large amounts of cash, making them a prime target for thieves. If the UK Government takes steps to improve facilities at service stations, including providing more security, drivers in this industry will likely feel more confident in the future.
Alternative fuels are not on the agenda for taxi and limo firms
Fleets need to start planning ahead now, as the ban on the sale of new petrol and diesel vehicles is fast approaching. However, this survey revealed that 92% of taxi and limo firms have no immediate plans to switch to alternative fuels as there are still too many barriers.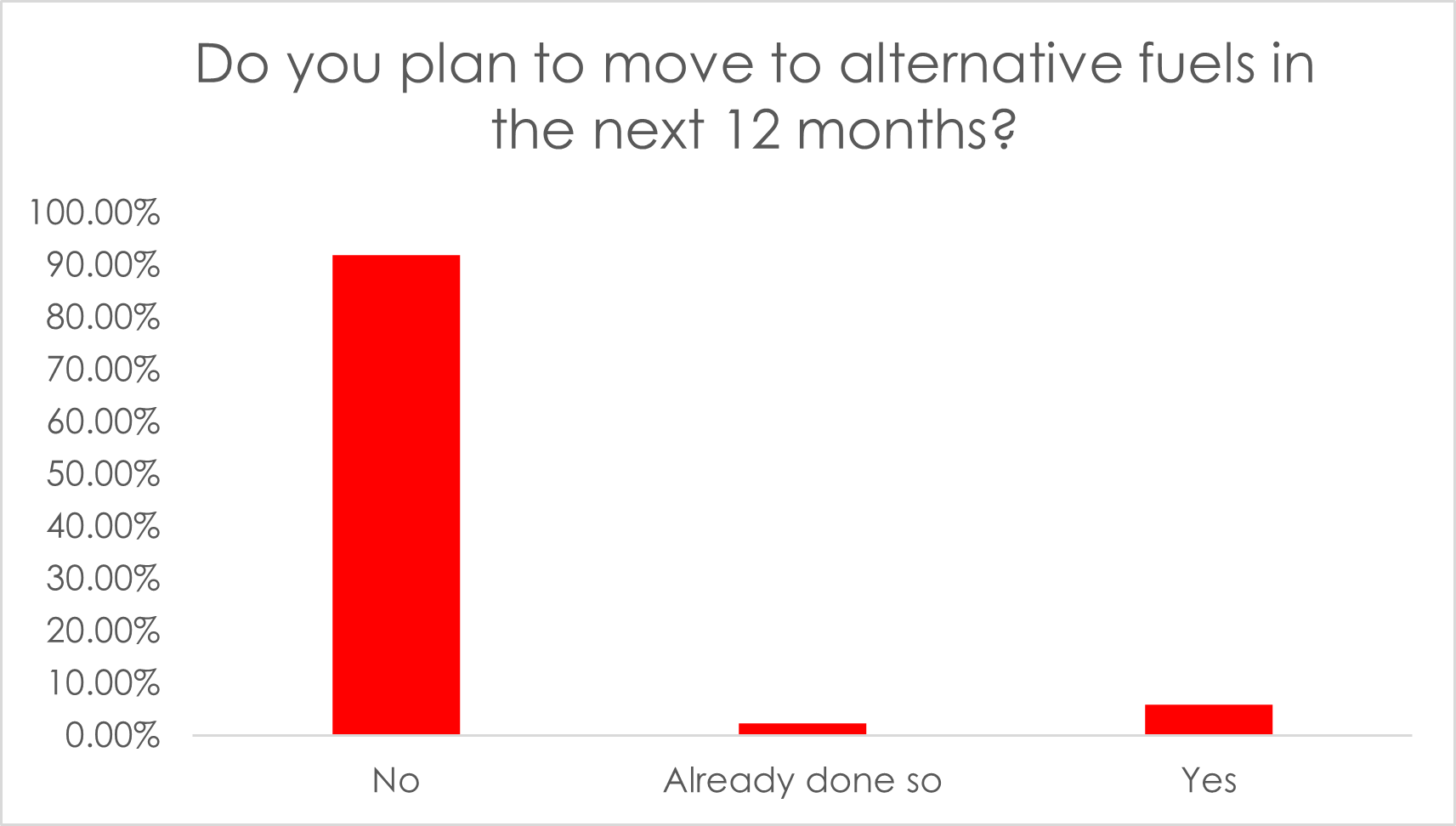 Vehicle range is currently considered the main barrier of alternative fuels for taxi and limo firms, followed closely by high costs.
There are various other barriers that are deterring taxi and limo firms from making the switch to alternative fuels. These include:
Vehicle range - Taxi and limo drivers are constantly on the move so need a vehicle which can travel long distances before needing to be refuelled. As EVs only have an average driving range of 219 miles, it would be impractical for them to be used by taxi and limo firms. Other alternative fuels, such as hydrogen and HVO, are also not accessible enough to be used by drivers, although it's expected that they will have a longer driving range than EVs.
High costs – Not only are vehicles that use alternative fuels considerably more expensive than their ICE counterparts, but they require a new refuelling infrastructure which is costly to install and maintain. In the midst of the cost of living crisis, many businesses are struggling to warrant this high investment when their current vehicles are still operational.
Time to refuel – EVs take much longer to recharge than it takes to refuel a petrol or diesel vehicle. This makes them impractical for taxi and limo firms who work on the clock and occasionally need to embark on long-distance journeys e.g. for airport transfers at short notice.
Limited models available – Although there are several EV models available for taxi drivers, there is a limited selection of limos which use alternative fuels. This is unlikely to change in the near future, as manufacturers are focusing their attention on cars and vans.
Due to the introduction of clean air zones in major cities across the UK, many taxi and limo firms will need to use low-emission vehicles if they want to avoid costly charges. As alternative fuels are not yet on the agenda for many businesses in this industry, it's likely that drivers will instead continue to utilise the hybrid vehicles which they were largely early adopters of.
Right Fuel Card has a fantastic selection of fuel cards available to taxi and limo firms to help them efficiently manage their fuel expenditure. Contact our team at 0113 202 5110 to discuss your options or use our quick comparison tool to receive an instant recommendation.
As businesses start to consider alternative fuels for their fleet, we're keen to offer a wider range of products which can be used by greener vehicles. You can register your interest in our upcoming EV fuel card.
Note: Survey conducted in May 2023 to business fuel card users, receiving 854 responses.